StoreFeeder PrintAssist is currently an account feature. To have this feature activated, please contact our support team.
StoreFeeder Print Assist is a lightweight desktop application that must be installed on your computer or device in order to perform automatic printing in StoreFeeder.
This guide details how to set up and use StoreFeeder Print Assist, our lightweight desktop client for instant printing.
To begin, navigate to ('Settings'>'Printing'>'Print Assist Setup') in order to download, install, and set up the Print Assist Client application.
Step 1: Creating a Print Assist Account
You will need to enter some details to begin setting up Print Assist.
First, enter your details in the blank fields below:

When you have entered your details, click the 'Create' button, as circled:

You will see an information box advising you when the Print Assist account creation has been successful.
Please keep a note of your details, as you will need these as part of the Print Assist installation process. You can request a password change at any time by using the link.
Step 2: Downloading and Installing the Print Assist Client
Before you activate StoreFeeder Print Assist, you will need to download and install the client. You can do so by selecting the correct link for your operating system under 'Download Print Assist Client'.
For assistance downloading and installing the client, see this knowledgebase: Print Assist Setup.
Once you have downloaded and installed the Print Assist client, Switch the Print Assist Toggle to 'On', and click the 'Save' button below.
Step 3: Printer setup
There will now be several icons that will be visible at the top of the screen:

Click 'Print Options' to begin connecting your printers. You will be presented with the following window: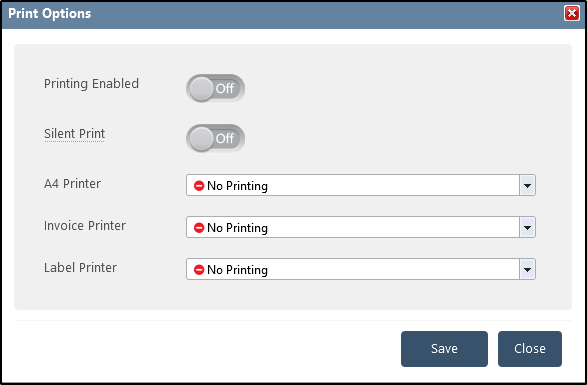 Using the drop-down menus, select your appropriate printers from the list. Any printers connected to your computer or device either physically or via network will be visible.
Printing Enabled: Switch this to 'On' to enable Print Assist. You can switch this off or on at any time.
Silent Print: If this is switched 'On', you will not see a preview of your documents. They will instead print automatically. You will only see a preview of paperwork if the printing is unsuccessful for whatever reason.
If this is switched 'Off', you will always see a preview of paperwork before printing.
Select your options and click the 'Save' button when ready. You are able to change these options and re-select printers at any time.
The Print Assist icons at the top of your screen will have changed to show you which of your print options have been successfully set up:
In this example, the icons beside 'A4' and 'Invoice' printers have changed to green 'On' symbols, and so are showing as successfully connected. We have not yet set up a label printer, and so the icon beside 'Label' is a red minus symbol, to show that printer type has not been connected.
Please note that Printer settings are saved and are computer/user specific. Whenever you log onto a machine, your previous settings will be remembered. This way, separate computers in your warehouse/office etc can remain connected to the correct printers.
You can click the 'Enable Printing' toggle at any time to disable Print Assist.
If you wish to test the connection, you can try a test page by clicking any of the links under Test Printing on the 'Print Assist Setup' page. This allows you to test each printer type individually: