A direct integration with Royal Mail allows you to create labels, both integrated and thermal, for orders shipped with Royal Mail services as well as produce your end of day manifest all within StoreFeeder.
If you have more than one Royal Mail account, these will need to be entered as separate integrations.
Integrating StoreFeeder with Royal Mail as one of your couriers is a simple process, but requires action from the Support Team here at StoreFeeder.
Just follow the instructions below:
Step 1.
You will first need to add a Royal Mail integration to your StoreFeeder account if you do not already have one.
A Royal Mail integration comes as a default on a new StoreFeeder account, but if you need to add it as a new integration follow the first 3 steps in this guide. If not, you're better off starting this guide from 'Step 4'.
Please do not be tempted to update an existing integration, this can have serious negative consequences for example leaving you unable to manifest. We will shortly be removing the ability to update an existing integration.
First, sign into StoreFeeder using your login details. You will then be brought to the 'Dashboard. Look to the top right of this page and you will see a 'Settings' option with a cog next to it; click that.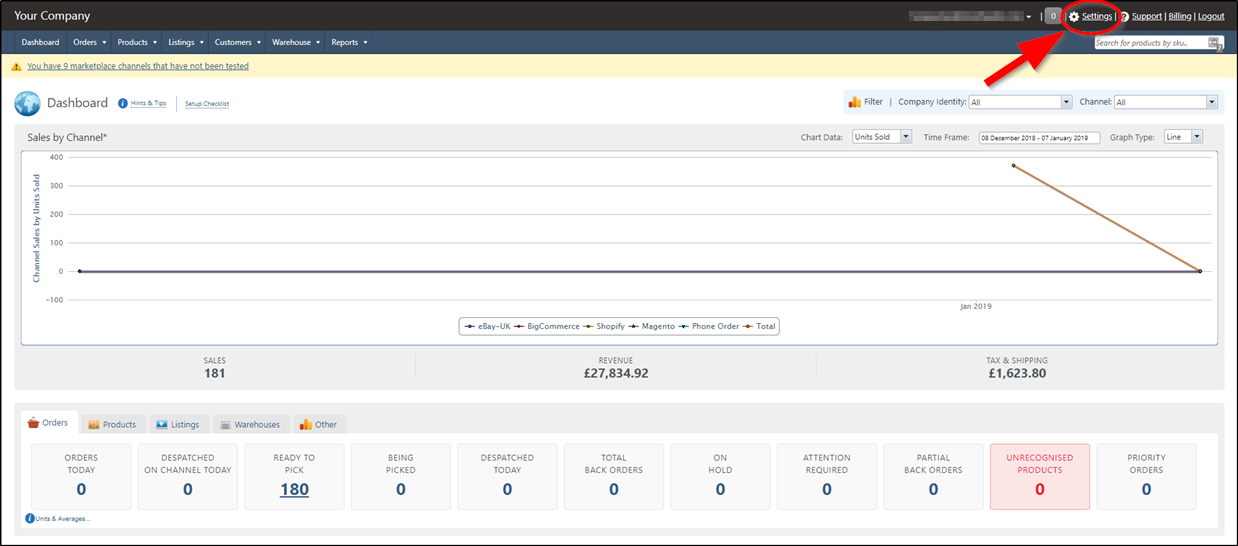 ---
Step 2.
You will now see the 'Integration Manager' page and a list of all of your channels.
To create an integration with Royal Mail, look to the top right of the Integration Manager page and click the green button marked "+ New Integration".

---
Step 3.
You will then be greeted by the following screens where you will need to pick the circled options.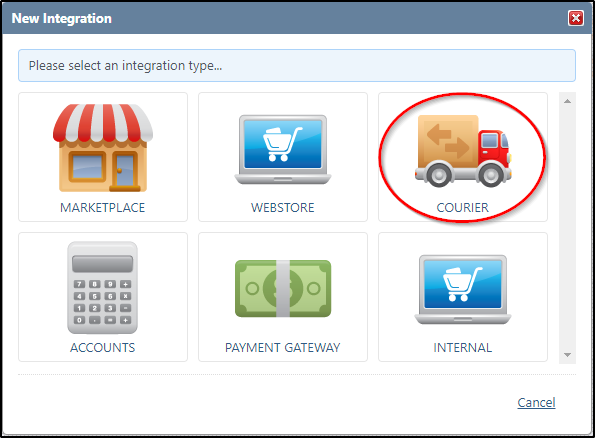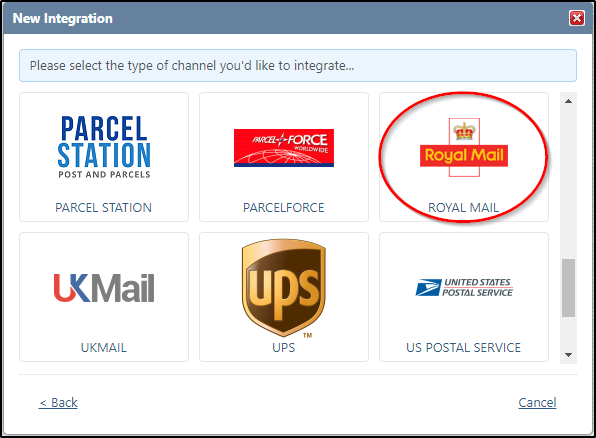 You will then be asked to input a name for the integration. Once you have finished, click the '+Add Integration' to proceed.
You will now see the 'Integration Details' page for this channel. In the 'Integration Profile Section' you can edit your Profile Name, select a Company Identity and set the 'Connection Type'
---
Step 4.
On the Integration details page, you will first need to check the integration type is set to 'Direct'. This will confirm that the integration is going to be used to link directly with the Royal Mail.

Don't forget to click the 'Save' button at the bottom of he page after all the above steps have been followed.
That is as much as you can do now. In order to connect your OBA (Online Business Account) to StoreFeeder, we need to contact Royal Mail to get authorisation.
In order to get this authorisation, please get this information from your Royal Mail Account Manager and send it to StoreFeeder Support Team.
We need the following information:
Account Number
Company Name (as on OBA)
Email address (associated with OBA)
Posting Location Number (10 digits)
Please be aware that this process can take 2-3 working days, however in certain circumstances can take up to 10 working days. If there are any problems with setting you up we will contact you.
---
Once the information we require is back from Royal Mail, our Support Team will complete your integration and contact you to progress.