To begin the integration process of your KashFlow account with StoreFeeder, you need to click on 'Settings' in the top right of the screen.

Now you will see the 'Integration Manager' page. To Create a new integration click the 'New Integration' button circled below.

In the box that appears, first select the integration type you need. In this it is 'Accounts'.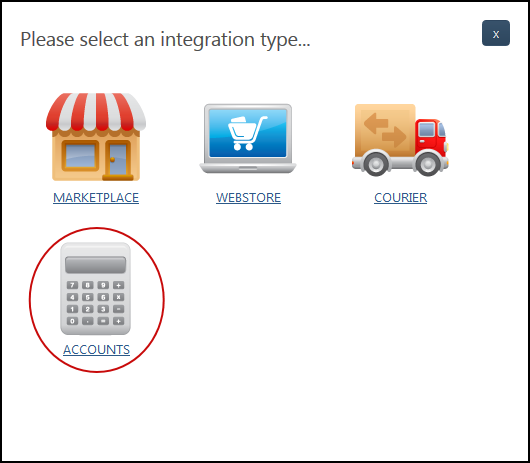 Then select 'KashFlow' from the accounts package page.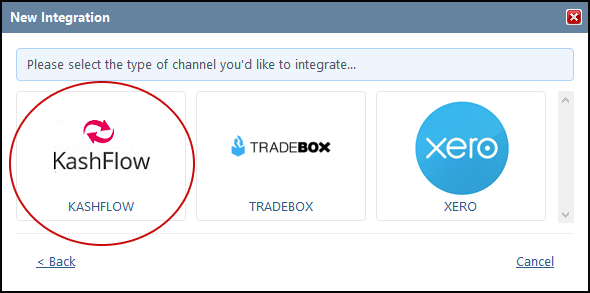 To set up your KashFlow profile in StoreFeeder, enter your profile name and click the 'Add Integration' button.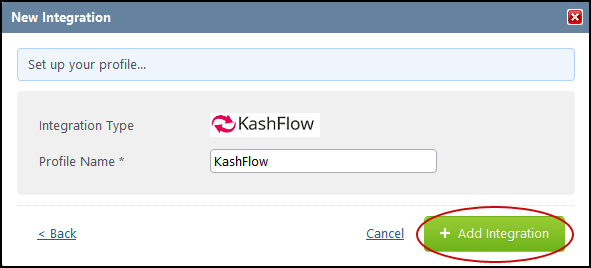 Now you will see your KashFlow Integration details page.
You need to enter username and password here.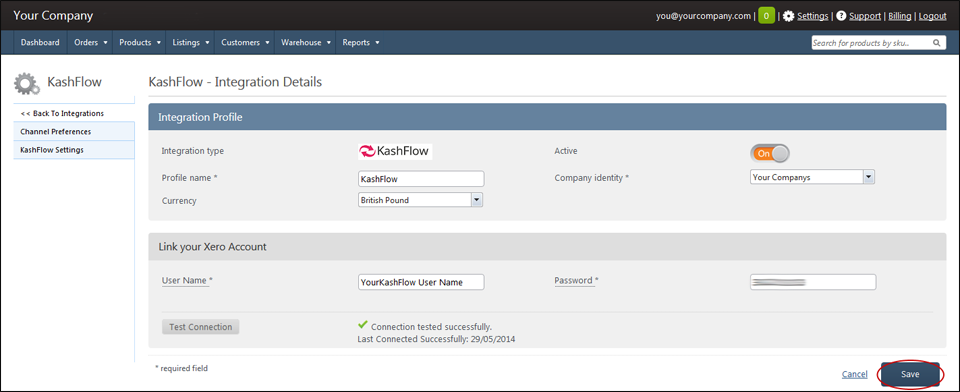 Then you will need to login to your KashFlow account and enable the API. To do this, just go to 'Apps > API Settings'.
Enabled - tick here to switch on the API.
Remote Login - this feature lets the application provide you with a link so as to seamlessly direct you to pages within KashFlow without having to ask you to log in again. The API must also be enabled.
Restrict Access - these options let us restrict access to your account via the API to certain IP addresses. We recommend you restrict API access to our IP Addresses. You can find our list of IP addresses in our StoreFeeder Connectivity guide
Password Settings - this lets you choose from either your standard KashFlow password or set a new one for use with the API. This means that third party applications and add-ons will need to use this password, rather than your main KashFlow password.
You have now successfully integrated your KashFlow account with StoreFeeder.
KashFlow Settings
Once you have created your KashFlow integration, you will need to set up how it connects to your sales channels. To do this, first click on 'KashFlow Settings' in the left-hand menu. You will see a list of your sales channels with the following options for each:
Export Orders: This is the most important setting, as it determines which channels' invoices will be sent to KashFlow through StoreFeeder. Only those channels for which this setting is set to 'On' will have their invoices sent to KashFlow.
Customer Sources: If you have set up Customer Sources in KashFlow, you can use this field to set which source your customers from this channel will have in KashFlow.
Payment Methods: This field sets the payment method that invoices from this channel will be treated as in KashFlow.
Bank Accounts: This field sets which bank account KashFlow will record this channel's invoices as having been credited to.