Many StoreFeeder clients have multiple eBay accounts or websites which use different logos etc.
See the 'Creating a Company Identity' Knowledge Base for more information.
Until now, clients were only able to create MOTO orders using the default company which was causing issues when creating these orders for any company identity other than the default.
So, we have now created the functionality to select the company identity you wish the MOTO order to be for when you are entering the order.
Create the Internal Integration
To enable this function, you first need to create the internal integration for each company identity you have.
At this point, you must have multiple company identities created (see link above)
Click 'Settings' in the top right of the screen
Click '+ Add New Integration'
In the box, click 'Internal'
In the next pop up box, click 'Phone Order'
Give the internal integration a name (we would suggest the Company Identity name)
Click '+ Add Integration'
You will now see the new Integration Details

Change the 'Active' button to 'On'
Select the correct 'Company Identity' from the drop down menu
Click 'Save'
Your new integration is now complete
Processing MOTO orders for an individual Company Identity
As with a normal MOTO order, navigate to the MOTO orders page by hovering over 'Orders' in the StoreFeeder menu bar and clicking on 'MOTO (Phone Order Entry)'.
Then you need to select the company identity that you wish to use for the order by selecting the correct company identity from the 'Channel Purchased From' drop down menu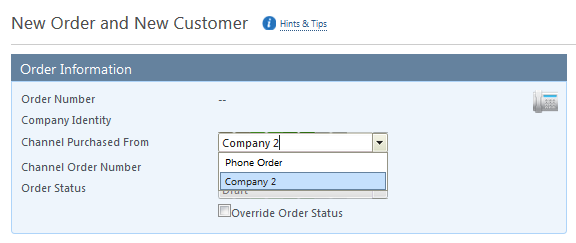 You can now complete the MOTO order as normal and the correct paperwork/communications will be used for the selected company identity.