'Company Identities' allow you to have a distinct divide between multiple companies or brands you may be selling as. Each 'Company Identity' can be associated to sales channels, orders and invoices.
We have already created your first 'Company Identity' for you based on the information that you provided when you signed up, so you need to visit this and ensure all the information is correct and add a logo image and update your VAT and customs information.
To access your 'Company Identity' click on 'Settings' in the top right of the screen.

Then, on the 'Integration Manager' page, click 'Company' in the settings menu on the left, then select 'Company Identities' from the menu.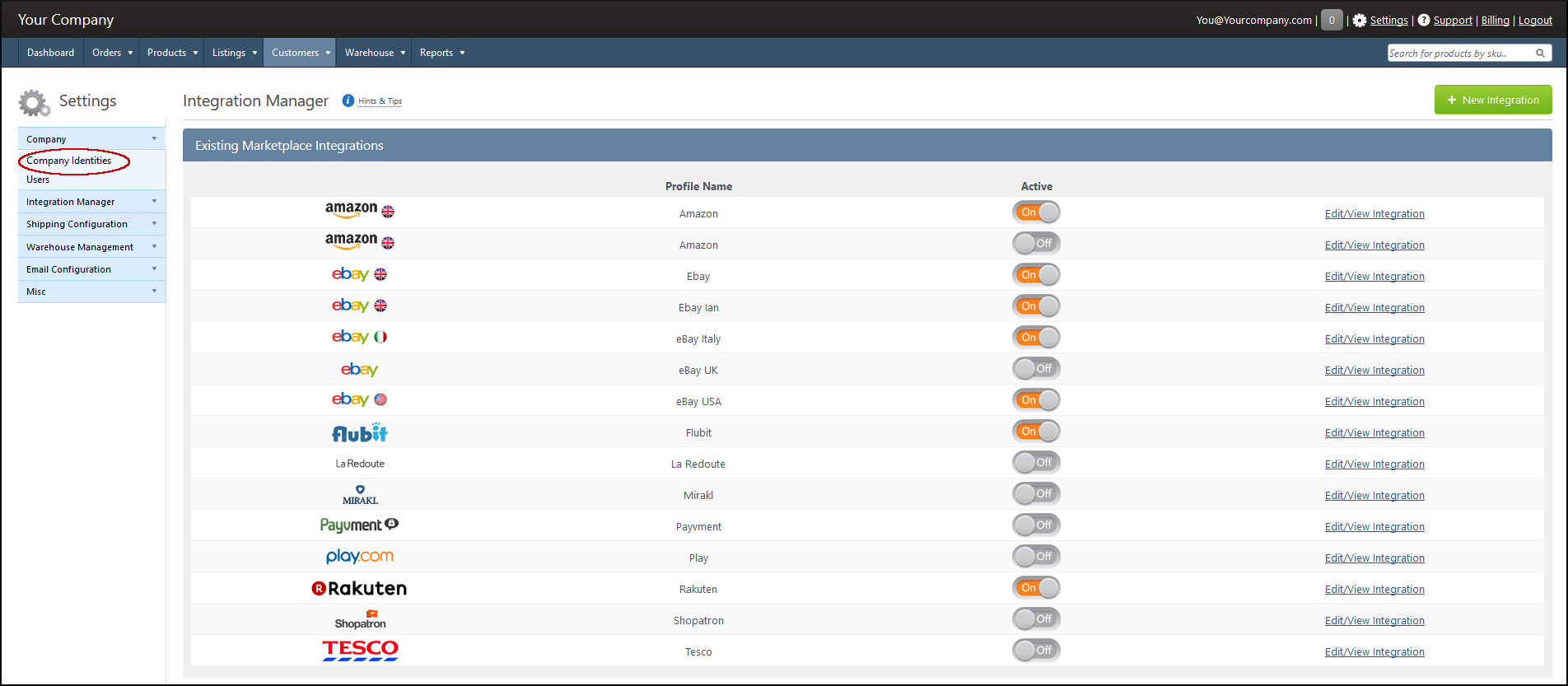 You will be taken to the 'Company Identities' page where you will be able to see your company identity.
Click the 'Edit/View Company Identity' button and this will open up the details page.

Please check that all this information is accurate and correct.
You can upload a 'Company Logo' for this identity by clicking the 'Select File' button and choosing your image from your computer.
This is the section where you also confirm your company information that is relevant for international sales.

This includes:
Your VAT and EORI numbers
Confirm your Custom Declaration Category
Add a signature image for use on CN22 declaration forms
Add any country specific VAT and Tax numbers that are relevant for this Company/Brand.
Once all the information is added, click the 'Save' button and you will see a green message confirming that your 'Company Identity' has been saved.

If you have more that one Company Identity or Brand that you wish StoreFeeder to distinguish, you can create a new Company Identity. To do this click the 'New Company Identity' button.


You will now see the 'Add New Company Identity' page where you will be able to enter all of the relevant information that relates to it, as above.
If you do not require .any additional Company Identities, then please skip this and mark this step as 'Complete'