Following the issue with Etsy, users need to reconnect their Etsy accounts to StoreFeeder.
To re-establish the link between StoreFeeder and your Etsy account, you need go to 'Settings' in the top right of StoreFeeder and click 'Edit / View Integration' link against the Etsy account(s).
to click on the 'Reconnect Account' link as shown below:

You should then be taken to a login page where you will need to enter your Etsy username (e-mail) & password, then click 'Sign in'.
After signing in you'll be greeted with a message asking if you would like to allow 'StoreFeeder DEV' to connect to your Etsy account. Once you're happy with everything, click 'Allow Access' to proceed to the next step.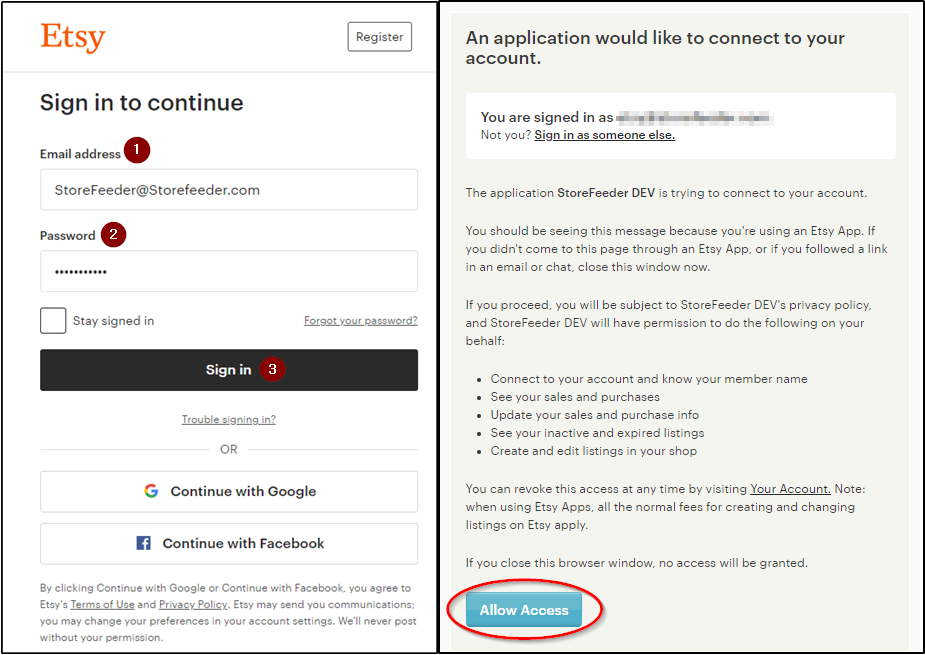 Step 5.
You should now be taken back to your StoreFeeder 'Integration Details' page, where you will see that your Etsy account has now been linked successfully.
All that's left to do is to click the 'Test Connection' button to make sure everything is running fine; if it is then it should look like this:

Now, if your page looks like that then click 'Save' at the bottom of the page.
Your Etsy integration should be connected again now.