A kit product in StoreFeeder is a single product that is made up of other individual products within StoreFeeder and is simple to create.
First, click on the 'Products' tab from the dashboard page.

On the 'Products Page' hover over the product you wish to use as a 'Kit Product' and click on 'Edit' as circled below.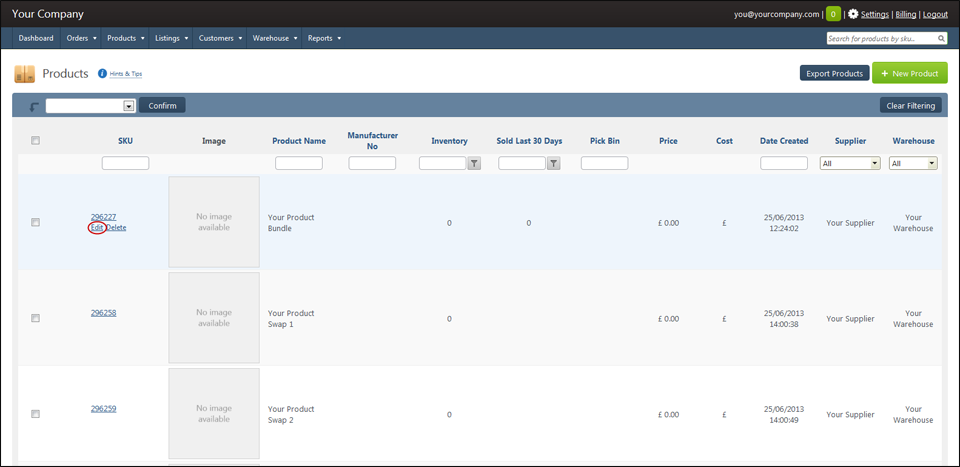 You will now be on the general page of the product. Now click on 'Additions And Swaps' in the menu on the left as shown in the image below.

You will now see the 'Your Product Bundle' page. To add your first swap product to your kit product, select the 'SKU' of the you wish to add the products to from the 'Product' drop down box.
This will usually be the product you are currently editing and will be the default selected in the drop down box.
Now add the first product you wish to add to the bundle (i.e the component product) by entering the product's SKU into the 'Product Addition' field and add the quantity you want in the 'Qty' field.
The product will have had to have already been created in StoreFeeder.
Select if you would like to 'Delete Original Product From Order' (selecting 'Yes' will show just the kit product on an invoice and 'No' will show the component products) and select if you would like to 'Update Kit Product Inventory' when a component product is ordered as part of a kit product.
Finally, click the 'Add' button to add the product to the bundle.

Repeat the process to add other component products to your kit product and then click 'Add'.

Once you have finished adding