For DX integrations, we now support both DX Secure (B2C) and Business to Business (B2B) deliveries.
To integrate your DX courier account with StoreFeeder, Navigate to ('Settings') and click the green 'New Integration' button. Then from the 'New Integration' window, click the 'Courier' icon: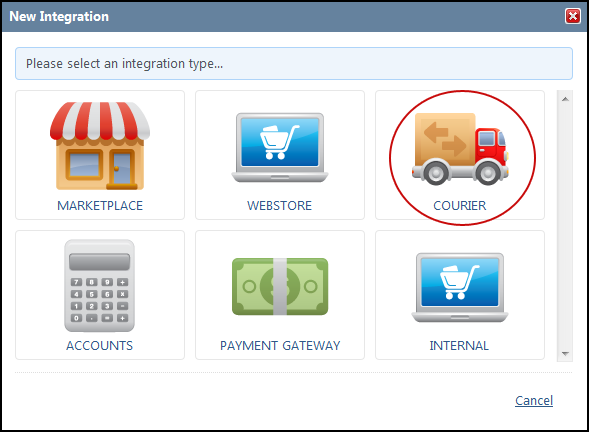 From the list of couriers, select 'DX':
On the next window, you can rename the integration if you wish. When ready, click the 'Add Integration' button.
You will be directed to the 'Integration Details' page for DX.
Under the Integration Profile section, Enter your API Username, Account Number and API password. This information will be available in your DX account.
In the label format field, type one of the following:
PDF - For integrated labels
EPL or ZPL - For EPL/Zebra printers
Show SKU Details - Type 'TRUE' in this field if you wish for your product SKUs to be displayed on your courier labels (60 Character limit per SKU).
For B2C Secure services ONLY:
The below button can be used to import services that are specific to your DX account, in order to use the DX Secure (B2C) services. Once imported, these services will then appear in the services dropdown on the shipping method page.

In the Manifest Template section select from the following:
Template Type: Select between 'Manifest by Order Line' or 'Manifest by Order Number'
Export Method: Select between CSV, XML, or PDF
Transfer Method: Choose the method of transfer. 'Manual' is set as default for Courier API integrations.
Use the check boxes on the order lines to select the orders you would like to change, and from the drop-down box, select 'Alter Shipping Method' as shown:
Click the 'Save' button to complete the integration.