There are a few different reasons why you may not be able to view your label within the popup in StoreFeeder or it might not print correctly. The most common reasons and solutions are below.
1. The label may have been purged from the system due to data retention, if you try to print labels that have been purged you will get this error:

You can find more about this in our error guide here: An error occurred while attempting to retrieve the label from remote storage.
2. The courier you are using is set up to provide labels in a raw printer format (ZPL/EPL/etc). If this is the case this is what you will see in StoreFeeder: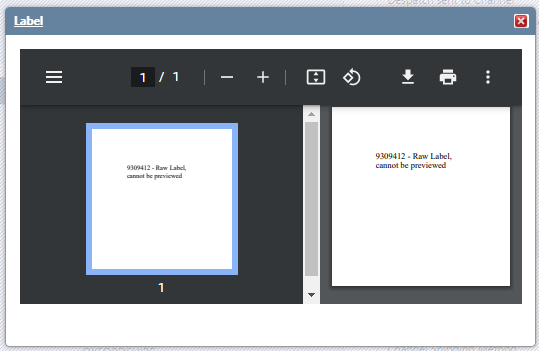 These labels can't be viewed within StoreFeeder because the label itself is just instructions to be sent to a label printer and the label printer prints what the instructions tell it to print. You won't be able to view these labels in StoreFeeder and if you try to print from the pdf popup you won't get your label.
To print these labels you will need to use print assist which automatically sends the labels to your label printer when you press reprint label or despatch an order that generates one of these labels. If you don't have this setup already please contact the support team to have this enabled.
3. If you find that labels are printing but the label itself is missing bits of information it may be that you need to update the drivers for your printer. You should be able to find the drivers if you search your make and model on the manufacturer's website.
4. If you print the label and you find it has the wrong orientation or there is an offset this may be due to your default printer settings. Print assist will use the default settings on your printer when it prints (rather than and settings your PDF software uses) so you may need to edit your printer settings in the control panel.
5. If you're unable to print because none of your printers are showing in print assist you might want to double-check that the PC that the printer is attached to is turned on and logged into print assist. Because the PC you're currently using may not be the one the printer is attached to.