The Barcode Manager in StoreFeeder enables you to upload your barcodes and add them to your listings and products at a click of a button.
From the 'Settings' page, click on 'Misc' and then 'Barcode Manager' from the menu on the left side of the page.

You will now see the 'Barcode Manager' page. You first need to upload your barcodes to StoreFeeder.
Click the green 'Import Barcodes' button as circled in the image below.
If you require barcodes to upload, they can be purchased from websites such as www.gs1uk.org.

You will now see a window asking you to select the file containing your barcodes from your computer and upload them to StoreFeeder.
Click the 'Select File...' button, locate the file and then click the 'Import' button to upload the spreadsheet.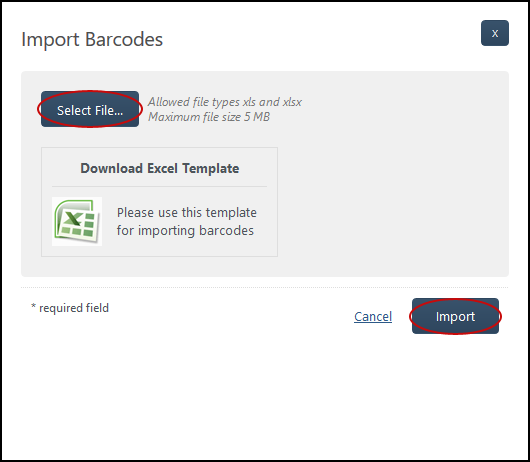 You can download an example of the spreadsheet format required from the import barcode window. In order to successfully import the file, two columns are required; 'Barcode' and 'Barcode Type' as shown in the image below. The barcode field needs to contain the barcode and the barcode type columns need to show if the corresponding barcode is an EAN (European Article Number) or UPC (Universal Product Code).

Once you have uploaded the file, you will see your barcodes have been added to StoreFeeder. You can search for a specific barcode, filter by 'Barcode Type' and check its 'Availability'.
There is also a summary of all your barcodes in StoreFeeder. At a glance you can see the Total amount, the number Available, if any are Reserved and how many have been Used.
Barcodes are reserved for two hours from the time they're assigned to a listing (usually using the 'Autofill' feature). If changes to the listing are subsequently saved, the barcode will become unavailable (used); if the listing isn't saved within two hours the barcode will become available for use again.