'In Transit' is available only for accounts that use the app for picking.
When an item is picked on the app, we know that the physical stock has moved from the pick location to the trolley/basket/tote etc. that the picker is using.
It allows you to know where you physical stock is at any point in time.
When the items are despatched, the 'In Transit' stock is removed from the product.
Knowing this movement, and recording it, allows businesses to be doing stock checks on locations at the same time as they are picking, as the system knows the 'Physical stock' in each location at any given time, even while picking is in process.
So, if you see the 'In Transit' location on your products, this is usually because the items have been picked from the location but are not yet despatched.
Here is an example to show you what actions happen and how this is shown inside the product on the system.
Example:
I have an order for 2 units, but they are not yet assigned to a pick wave. This is what the stock looks like on the product:

I have now allocated the order for this product to a pickwave.
You will see that 'Physical Stock' in Location A1 is still 12 as the 2 units have not been picked yet:

Now, I use the app to pick the pickwave and I pick the 2 units from A1: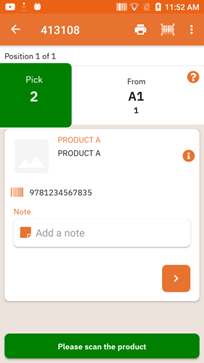 As soon as I hit the 'Continue' button on the app, the system knows that these 2 units are no longer in the stock location, but are in my trolley, so the 2 units are then "transferred" from A1 to 'In Transit'.
The 'Physical Stock' in A1 has reduced to 10 and the 'Physical Stock' in 'In Transit' is now 2. This is how the stock shows now:

When the picking is complete and the packer takes over, as soon as the order is 'despatched', the stock will remove from the 'In Transit' location" and the total stock will go from 12 to 10: