Amazon integration enables you to:
Create product listings
Download your Amazon orders
Pick, pack and despatch orders
Send tracking information to Amazon
Update and synchronize inventory
Create Fulfilled By Amazon (FBA) listings and import records of FBA orders
Integrating StoreFeeder with your Amazon marketplace is a simple process. Just follow the instructions below and you should be up and running in no time.
Step by Step Guide
Step 1.
First, sign into StoreFeeder using your login details. You will then be brought to the 'Dashboard' and will see a yellow bar

at the top of the page indicating that you have sales channels that have not been tested. To begin the integration, click on the link in the yellow bar

.
If this yellow bar doesn't appear on your dashboard then look to the top right of the page for 'Settings'

then click 'Your Integrations'.

Step 2.
You will now see the 'Integration Manager' page and a list of all of your channels. To integrate your Amazon channel, click on 'Edit/View Integration'

. If Amazon does not already appear on this list then you will need to set up a new integration for it; you can do this by clicking the green button marked '+ New Integration'

. Both options have been circled in the picture below:

Step 3.
If you are editing an already existing integration, you can skip this step.
If you are creating a new integration you will then be greeted by the following screens where you will need to pick the circled options.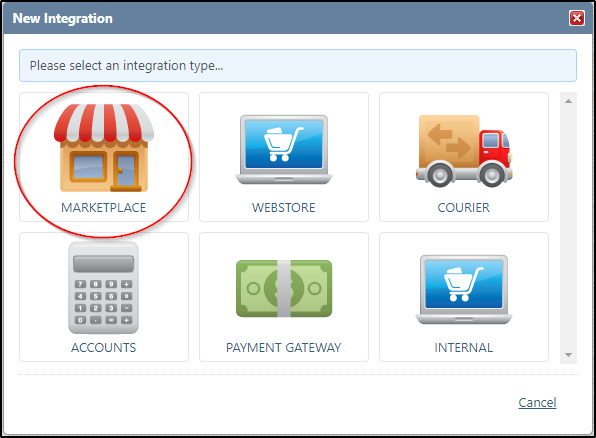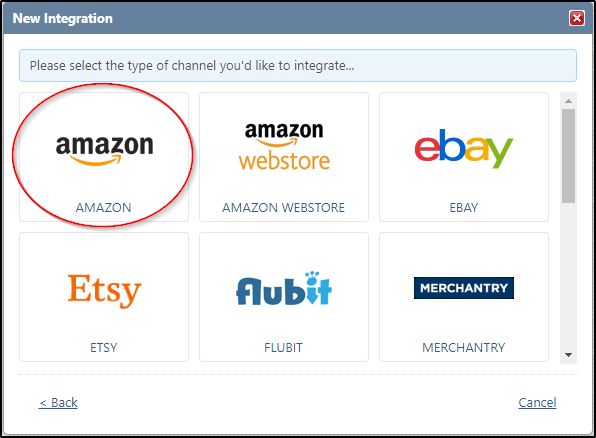 You will then be asked to input a name for the integration and select which Amazon Store you are selling through; you will also be asked if you wish to extend permissions to all users on your account. Once you have finished, click the '+Add Integration' to proceed.
Step 4.
To create the link between StoreFeeder and your Amazon account, you will need to enter your Seller ID and MWS Authorisation Token into StoreFeeder. Please see the below steps on how to obtain this information:
First, to create the link between StoreFeeder and your Amazon account, you'll need to log into your Amazon Seller Central account.
Upon logging in you will be taken to your seller central account dashboard; from here, hover over the settings option in the top right corner and select 'User Permissions' from the drop down list.
Now you will need to grant StoreFeeder access to your seller account. To do this, click on the 'Visit Manage Your Apps' button just under the 'Third-party developer and apps' header.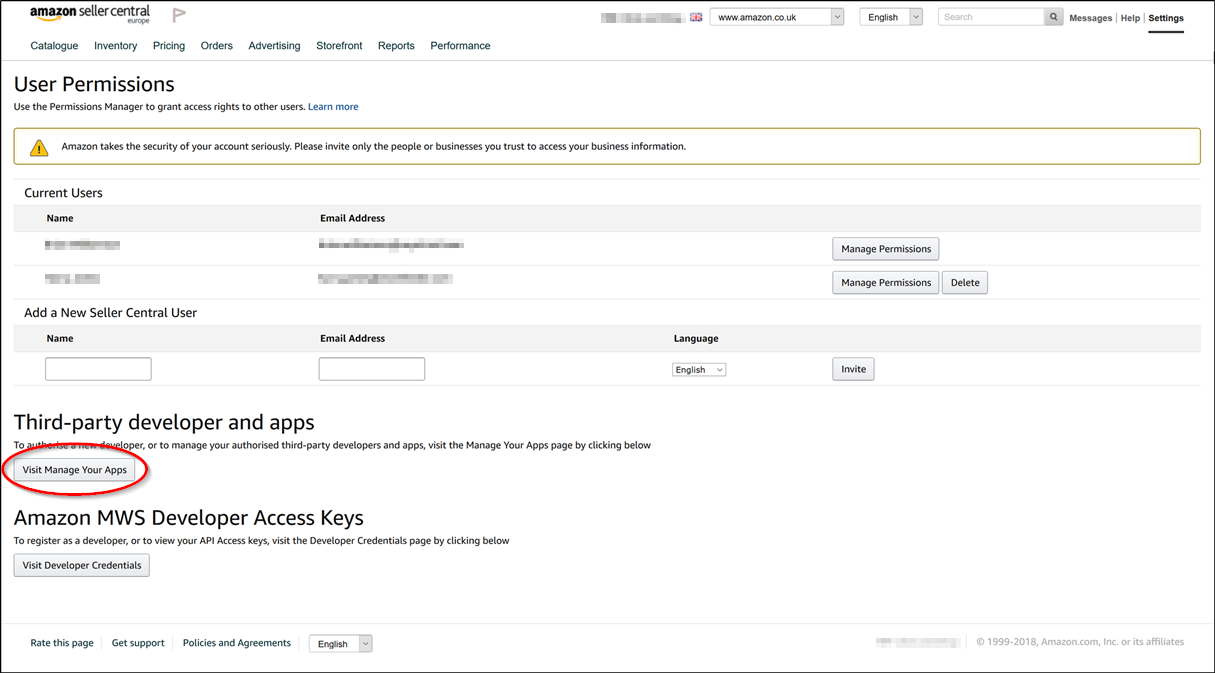 Step 5.
Once on the 'Manage your apps' page, click the 'Authorise new developer' button and you'll be taken to a screen asking for application information.
Enter this information in the corresponding fields:
Application Name:

StoreFeeder

Application's Developer Account Number for amazon.co.uk:

5314-6059-1309

Application's Developer Account Number for amazon.com:

8273-3633-3402
Application's Developer Account Number for amazon.com.au: 2349-1655-3614
It should look like this: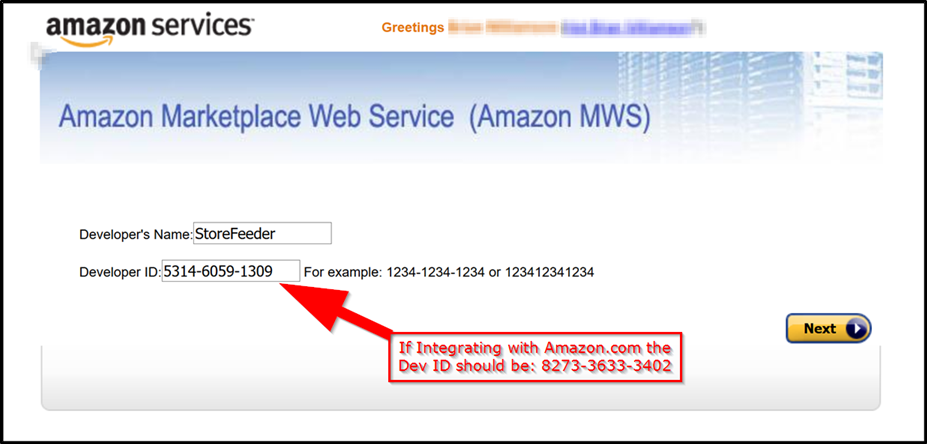 Step 6.
Once you have entered the information, click the 'Next' button - You will now see the terms and conditions for Amazon MWS. Once you have read it and are happy with them, check both tick boxes and click the 'Next' button
Finally, once you have entered the relevant information and accepted the license terms, you will then have access to the MWS authorisation token required to connect your Amazon account to StoreFeeder. This will also include a list of your Marketplace IDs and your Seller ID, as shown below: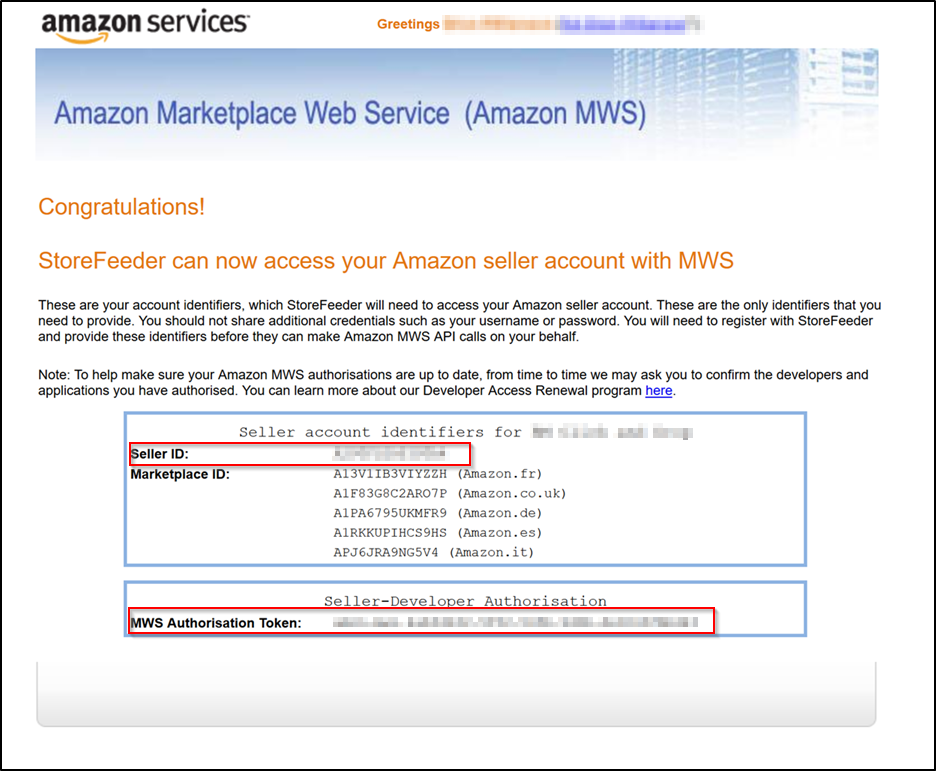 Step 7.
Head back over to your StoreFeeder integration details page. Paste the Seller ID into the SellerID field and the MWS Authorisation Token into the MWS Auth Token field then click the 'Save' button.
Finishing Up
At this point you can turn on the 'Automatic Listing Download' option.
Congratulations! Your Amazon account is now linked to StoreFeeder and your channel listings should start to download so that you can either map them to a product or create a new product from the listing.