My Courier Code/Courier Name/Delivery Method isn't displaying correctly in Amazon
Are you using an integrated Courier?
Amazon is very specific about what information it expects in the shipping update for it to recognise the tracking information as valid.
As well as the tracking number it requires a Carrier Code, Carrier Name, and Shipping Method.
StoreFeeder has mappings that send the correct values of Carrier Code and Carrier Name for the most commonly used couriers.
APC Overnight
DHL
DPD
DX Freight
FedEx
Parcelforce
Royal Mail
For the Delivery Method we send up the name of Shipping Method used on the order. In some instances how you've named your shipping method might not be suitable for upload to amazon and in these instances there is a way for you to set a specific shipping method name that will be uploaded to amazon.
If you head to your shipping method under settings -> shipping -> shipping methods and edit the method you should see a new field mid way down the page: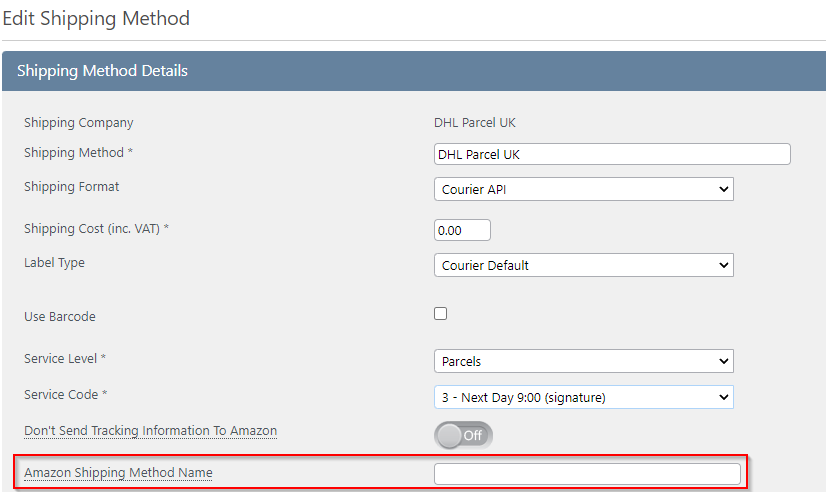 In here if you enter exactly what you upload to amazon that is what we will upload on dispatch for future couriers.
Are you using a Non-Integrated Courier through a Custom Integration?
If you are using a courier we don't directly integrate with, by default, we will send up the Carrier Code as "Other" and the Carrier Name as "non-integrated carrier".
If you want to send up a specific courier code or courier name you can edit your shipping method and enable the "Use Override Carrier Information" and enter custom carrier codes and carrier names.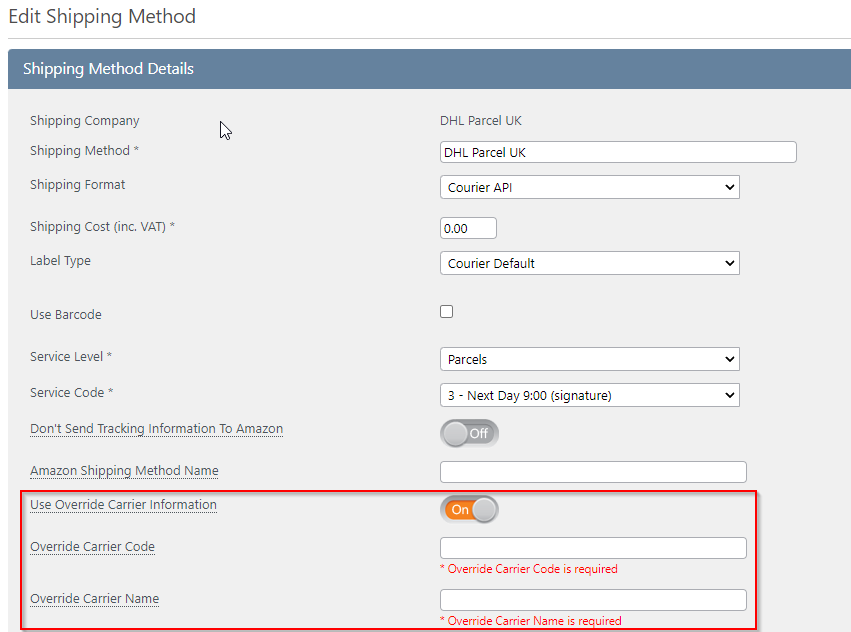 My Courier Code/Courier Name/Delivery Method are correct but my tracking shows as invalid
Are you using our direct Royal Mail Integration?
We've found particularly with the Royal Mail 24 and Royal Mail 48 services, even though the tracking numbers are uploading that they may show as invalid. These services don't offer full tracking and only support delivery confirmation numbers which only occurs on the final delivery scan. If this scan is missed the tracking will show as invalid on amazon.
At the current time of publish Amazon have been recommending to customers that labels for these 2 services (CRL) are made via Buy Shipping to avoid being penalised as labels purchased through them should be counted as valid regardless of missed scans.
We can directly integrate into Buy Shipping with our Amazon Logistics integration which was previously only used for Prime Orders but it can be used for all Amazon orders.
The first step to setting this up will be to add your Royal Mail account to Amazon
Royal Mail have created an FAQ detailing how to connect your RM services via Amazon Buy Shipping which you can find here
Once this is completed you can add the Amazon logistics integration within StoreFeeder. You can see our setup guide for this integration here
Still Encountering Issues?
The Amazon VTR Report only updates after about 10 days so after you make changes you will need to wait a bit to see if the changes have made a positive impact on your VTR rate.
If you've waited awhile and you're still not seeing any improvements please contact the support team through the support portal with your VTR report and we can try help you resolve any issues.