You can organise specific listings on Amazon into Shipping Groups which will determine the shipping method applied when theses items are ordered.
You will need to create the Shipping Groups in Amazon Seller Central before you can apply them to listings.
You can assign the Shipping Group to listings in StoreFeeder when creating Amazon Listings. Click on the 'Additional Information' tab on the Amazon Listing page as shown in the image below.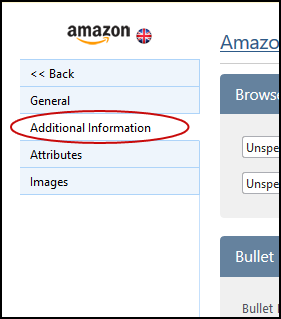 On the Additional Information page, scroll down to the 'General Additional Information' section where you will find the 'Shipping Group Name' option. To add a shipping group to the listing, type it into the field circled in the image below. 'N/A' will appear for selection as default, but once you have added a shipping group and uploaded it to a listing, it will also appear in the drop down box for you to select.
The Shipping Group Name in StoreFeeder will need to match the name you have given the group on Amazon exactly.

You can also add or update the Shipping Group Names on your listings in bulk using the 'Listing Import/Export' feature. You will need to select 'Shipping Group Names' from the list of 'Fields To Export', download the file and make the necessary changes. Once you have done this, re-import the file to update your listings. For more information on exporting your listings in bulk, please see the How to use the Listings Import/Export Feature.