Inbound Shipments is a term that we use for an order that is not a sale, but simply a transfer of our products from your warehouse to an external company for them to process on your behalf. This could be shipping goods to an Amazon FBA Centre, or to a fulfilment house if you outsource some or all of your order fulfilment.
You need to have an order record for this type of action, but it should not be shown as a 'sale' as the goods are not yet sold. You are simply moving unsold stock to another storage/distribution location.
Inbound Shipments is the perfect tool for this.
This feature needs activating on your account, so please contact Support Team if you wish to use this feature.
The feature is under Warehouse tab and is called 'FBA Inbound Shipments'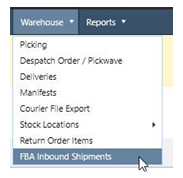 The Edit FBA Inbound Shipment page allows users to quickly select products that they would like to send either to Amazon FBA, or in your case, an outside fulfilment operation, without it counting as a sale.
To create a new "order" click the '+ New FBA Inbound Shipment' button.

Then select a 'Channel' and a 'Warehouse'

We will then load products from the selected Warehouse and any listing SKUs they have. You can see these by clicking the 'Product Search' button.

You can add and remove products as needed and click 'Save'. This will then create a draft of the Inbound Shipment that you can edit until you are ready to pick the items to be sent to store.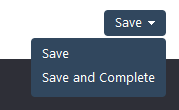 Please note that unlike a MOTO Order, stock is not allocated to this inbound shipment at this point (while in draft stage)
Once the Inbound Shipment is complete and ready, click 'Save and Complete' and we will automatically allocate the stock to this order and generate a TSV file you can upload to Amazon (you will need this) and generate a picking sheet, prioritising bulk stock locations first, and deduct the amount required from the pick locations.