Courier Default Values can be used to automatically populate the a number of courier fields on an order if the information is missing so the order can be validated at the point of despatch.
The values that can be overridden varies per courier.
To find the 'Courier Default Values' page for a courier, click on 'Settings' in the top right corner of the page and scroll down to the 'Existing Courier Integrations' section of the page. Click 'Edit/View Integration' next to the courier you want to set default values for and select 'Courier Default Values' from the list of options on the left of the page.

Clicking 'Edit' on the appropriate Default Value, will bring up the edit box.
In the example below, we are wanting to apply a 0.4kg weight to any order where there is no weight specified on the order.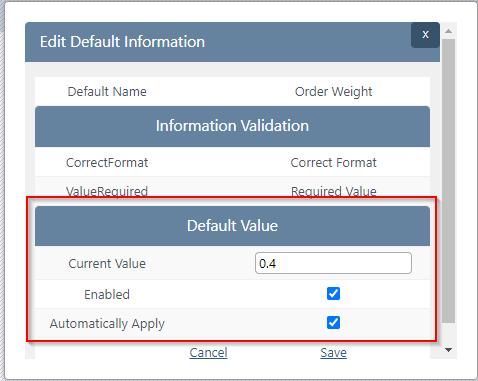 You will also see 2 options, 'Enabled' and 'Auto Apply'
Ticking 'Enabled' switches the default value on.
'Automatic Apply' is an option.
Left unticked and the system will action the override but will also display the error message on despatch still. This can be useful if you want to see which products have no weight (for example).
When ticked, we will simply apply the override and not display the error.