Introduction to Quarantined Stock Locations
In StoreFeeder it is possible to set up a stock location as Quarantined if you want a place to keep track of stock that exists but is not usable for one reason or another e.g. damaged stock that needs checking.
You can have as many quarantined stock locations as you like but once created as a quarantined stock location it cannot be changed to a regular stock location. This also works the other way round; a regular stock loaction cannot be converted to a quarantined location.
The guide below should provide all the information you need on creating and using quarantined stock locations.
Creating a Quarantined Stock Location
Creating a quarantined stock location is almost identical to creating a regular stock location bar one extra step.
The only extra thing you need to do is click the checkbox marked 'Quarantined' when creating your new stock location.
For a guide on setting up a new stock location, please see our knowledge base here: 01. Creating Stock Locations and Assigning Them To Products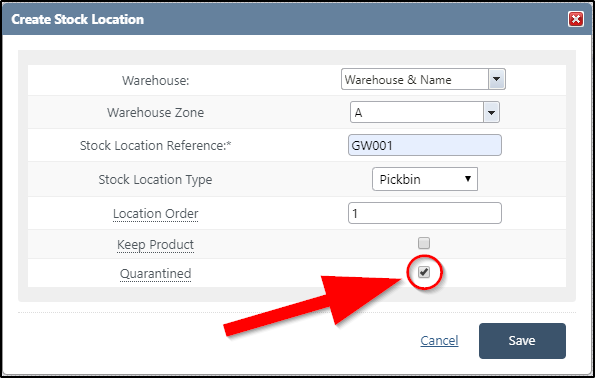 Once created, your new quarantined stock location will be visible from the 'Stock Location Overview' page and will be flagged with a

in the 'Quarantined' column.

Inventory and Quarantined Locations
Assigning a quarantined stock location to a product is done in the same as a normal stock location. If you head over to the 'Additional Information' tab on the left hand side navigation bar of a product's product page you will see a section titled 'Current Stock Locations'. To add the product in question to a quarantined stock location simply cick the '+ Add To Stock Location' button; from there you can use the drop down field to find your quarantined stock location.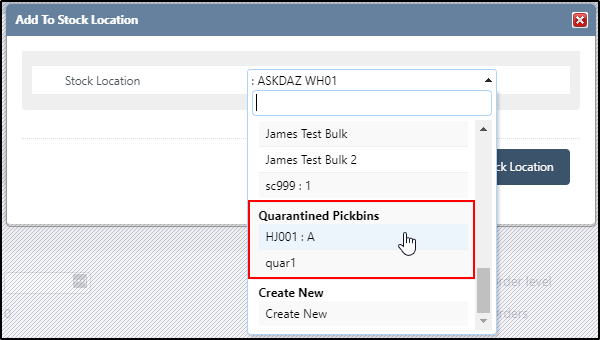 Once created, you will see your quarantined stock location appear under the 'Current Stock Locations' and it will be flagged with a

You may now move stock to and from your quarantined location freely, however the adjustments can only be instant, you can't have any pending transfers to quarantined stock locations.
Returning and Booking in Products to Quarantined Locations
Sometimes when products are returned or being booked in you might want the inventory to be updated but keep the stock unusable until it's been checked. You can do this by booking in returned or new stock to your quarantined location before it's moved to a regular stock location. You can return products from orders to quarantined locations both through the 'Edit Order' page and the 'Return Order Items' pages