eBay Default values allow you to create a basic template for a listing allowing to to create your listings quicker and list out to your eBay channels in bulk. There are two ways to create default values in StoreFeeder, on your eBay integration and directly from an existing listing.
Creating eBay Default Values On Your eBay Integration
To create an eBay default value, first navigate to the 'Integration Manager' page by clicking on 'Settings' in the top right of the page and click 'Edit/View Integration' next to the eBay integration you are creating a default value set for.

You will see the integration details page. Click on 'eBay Default Values' in the menu on the left of the page.

Here you will find any eBay default values you currently have set up. To create a new one, click the green 'New Default Values' button as shown in the image below.

The eBay Default Values page is a condensed version of an eBay listing page, containing all the non-item specific information you need to create an eBay listing in a particular category.
First you will need to enter a 'Profile Name'.
As default values are eBay category specific, using the primary category format (e.g. DVDs, Films & TV>DVDs & Blu-Ray) makes a great naming convention.
In the 'eBay Listing Details' section, you can add a suffix that will be applied to both the title and subtitle for a listing.
The 'eBay Product Details' section allows you to set all the generic listing information for any listing that will be using this default value.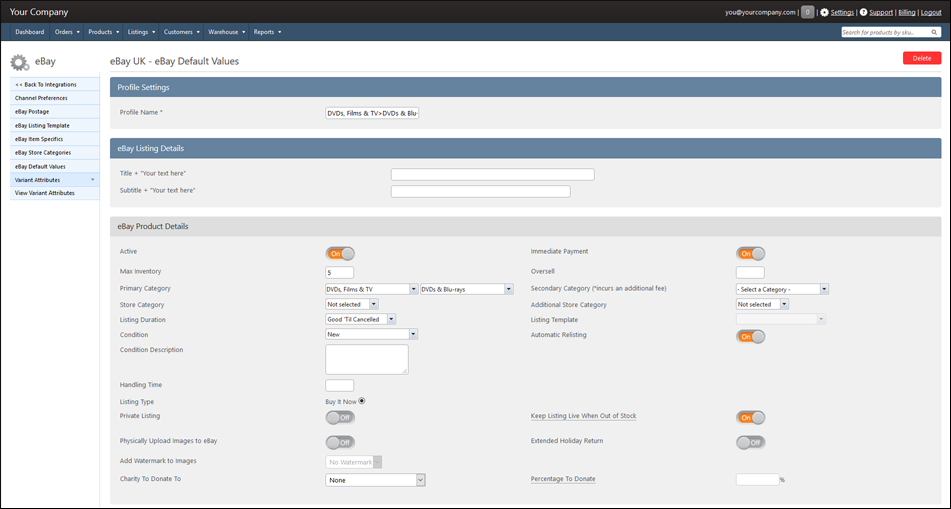 Further down this page, you will see sections that will allow you to set up 'eBay Shipping & Handling', 'Payment', 'Inventory Type' and any 'eBay Exclude Locations'.
Once you have set all of the information for you default value, click the 'Save' button to complete the setup.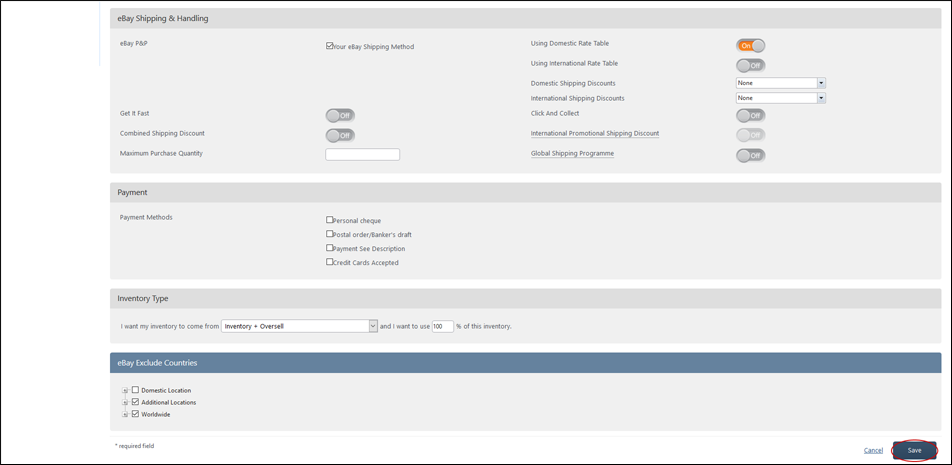 For more detailed information about the settings on the 'eBay Default Values' page please see the Creating an eBay Listing knowledgebase.
Creating eBay Default Values from an Existing Listing
eBay Default Values can also be created using the information on an existing listing. To do this, go to the eBay Listing page in StoreFeeder for the listing from which you want to create a default value from.
On the right of the page you will see a green circle with a + symbol in it as shown in the image below.

When you click the button you will see this window. Simply enter the name of the new default value and click the 'Create Default Value Set' button.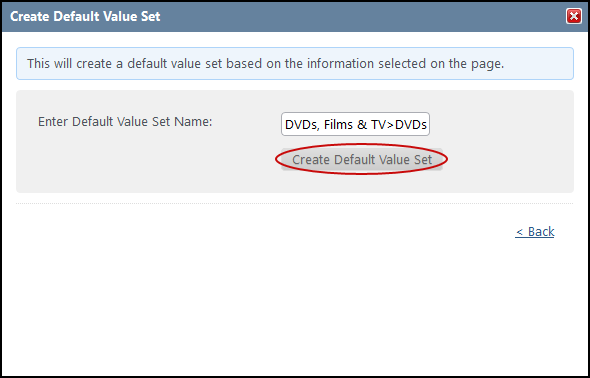 You new eBay default value will appear on the 'eBay Default Values' page in your ebay Integration.